Setting up a paid class and payment process (for institutions)
In this article...
This article explains how to set up a pay-to-enrol class, when your course is part of an institution.
---
Courses enrolments can be charged in one of the following currencies:
---
OpenLearning transaction fees per enrolment for institutions will be based on your institution's agreement with us.
---
Please email the following payment details to your Partnerships Manager at OpenLearning:
Name and email address of your organisation's accounts person
Your organisation's PayPal email address or bank details
If you're providing bank details for payment, please include the following details based on your location:
Account Name
BSB Number
Account Number
Account Name
Account Number
Bank Name
Bank Address
BIC/SWIFT Code
---
OpenLearning collects all students' enrolment fees and transfers funds to course providers on a monthly basis, minus any fees outlined in your institution's agreement.
Course earnings will be transferred using your nominated account, either via PayPal or bank transfer.
We process course payments on the last working day of each month. These include enrolments up to the 30th/31st of the month.
Funds are transferred to your account within 10-15 days after month end. You will receive an email notification with details of payment after the funds transfer has been affected.
For more information on queries regarding setting up and managing paid courses, check out our Pricing page or email your Partnership's Manager at OpenLearning.
---
Currently, we offer the following forms of course payment through our platform:
PayPal
Credit card (Visa, Mastercard)
MOLPay (only available if the price of the course is in Malaysian Ringgit)
---
Some organisations may need to offer invoice payments for their user base. This is available - please refer to this article for how to request an invoice: Can an organisation pay for course enrolments via invoice?
---
Go to Course Setup > General and scroll down to Classes in Your Course.
Click on Edit.
Select the Paid option underneath Enrolment Cost, set your course fee and click Save if you'd like to end here.
Note: The Paid option is only available for Public classes.
If you would also like to allow students to pay for your course via the iOS app store there are a couple more steps to follow.
By default, paid courses are not available for purchase via iOS devices. This is because Apple has special guidelines around the way content and services are priced on their store. You can learn more about this on their website here.

Therefore, if you would like your course to be available for purchase via iOS devices, you must set up a price that is within their pricing structure. (e.g. $ 19.99, not $ 20, etc) The next two steps will instruct you on how to set this up.
Step 4
To set up your paid course for iOS, tick the box next to 'Allow students to discover and pay for my course through the iOS app store.'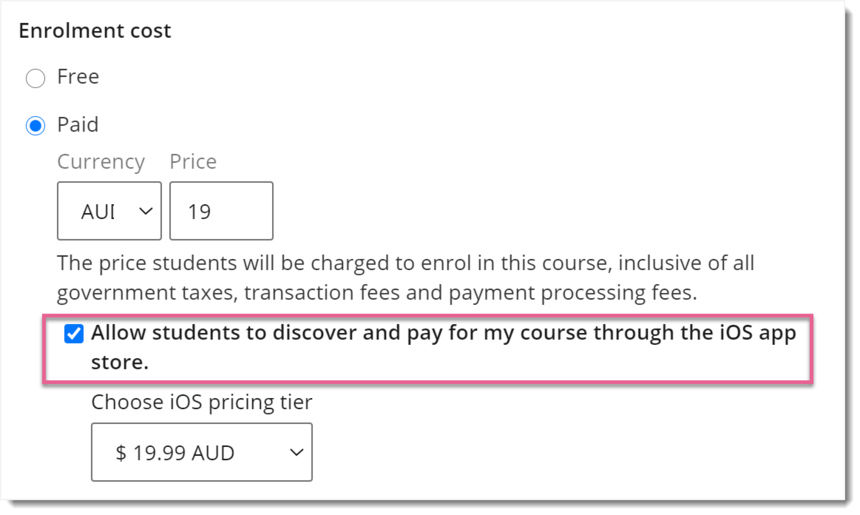 Step 5
Once that box is ticked, a new section will appear beneath it prompting you to choose your iOS pricing tier. Toggle the menu in order to choose one. 
Don't forget to click Save once you're done!