6
Zoom (LTI tool provider setup)
---
OpenLearning supports multiple technologies to provide interoperability with other systems, tools, and apps. In this article we will be covering the Learning Tools Interoperability (LTI) integration with Zoom, a cloud-based video conference tool that allows you to set up virtual video and audio conferencing, webinars, live chats, screen-sharing, and other collaborative capabilities. The topics covered are:
---
This integration is only available to education providers who have an Institution Plan subscription with OpenLearning
Zoom account user with admin role permissions
---
Head over to the Zoom App Marketplace and download the LTI Pro app which will allow you to schedule/join/manage meetings within OpenLearning.
Click on Sign In to Install and sign in with your Zoom administrator account to authorize and add this application to your account.
Once installed toggle the option to Pre-Approve the integration installation for users within your plan to set up the integration. (this includes your own account).
Navigate to the Manage tab and click on Configure.
Click on Create New Credentials and select LTI 1.1. Enter a title for this and click Save.
Take note of the LTI Credentials as you need this later when setting up the integration on the platform.
Scroll down to the Approved Domain section and please ensure to include:
your custom domain (if you have one)
Note: For more information on setting up the Approved Domain on your LTI Pro configuration, please visit: https://zoomappdocs.zoom.us/lti-pro-v2/welcome/getting-started
You don't need to change any other default settings.
---
Log in to OpenLearning and navigate to your Institution Settings > Integrations.
Scroll down to the LTI Tool Providers section and click on + Add LTI tool provider.
Enter the tool provider name, and on the Tool provider registration section, select LTI 1.1 for the LTI version.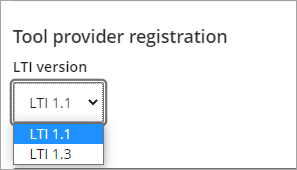 Note: We'll release a separate documentation for setting this up for with Zoom LTI 1.3.
Launch URL: LTI URL that you took note of from Zoom
Consumer Key: LTI Key that you took note of from Zoom
Shared Secret: LTI Secret that you took note of earlier from Zoom
Note: The widget icon will automatically be updated automatically once the correct Launch URL is added to the section above.
In order for Zoom to verify administrator accounts, a valid email address must be passed from OpenLearning to the Zoom application.
Scroll down and select the option Personal Email Address under Email Settings.
This option will prompt each user on their first launch to confirm an email address that will be sent to Zoom to complete the sign-on process.
Click Save. If the integration is successful, you will see the word Enabled with a green dot below it.
---
On your preferred course page, click on the Edit button to go into Edit mode.
Go to the Widget menu and select Integration from the category dropdown.
Click or drag the Zoom widget icon onto your page as with any other widget.  
Click on the View button to save the changes.  On the first launch, it will request to use your email address, which will be sent to Zoom to complete the sign-on process.
---
As an administrator or facilitator of the course that has been included in the Zoom plan, it will give you these functionalities:
Schedule and manage meetings
Start or join meetings
View upcoming meetings
View and manage previous meetings and recordings
Auto-provision a Zoom License for instructors
---
As a learner, you can then join the meeting which has been scheduled from the same OpenLearning page and able to:
View upcoming meetings
Join meetings
View previous meetings and recordings
Note: The zoom widget might be stuck in a loading state when using Google Chrome Incognito. This is because Chrome Incognito blocks third-party cookies.
Therefore, to fix this, we would need to unblock cookies for zoom:
Click on the Lock icon in the location bar.
Click on Cookies.
Go to the Blocked tab in the Cookies in use popup.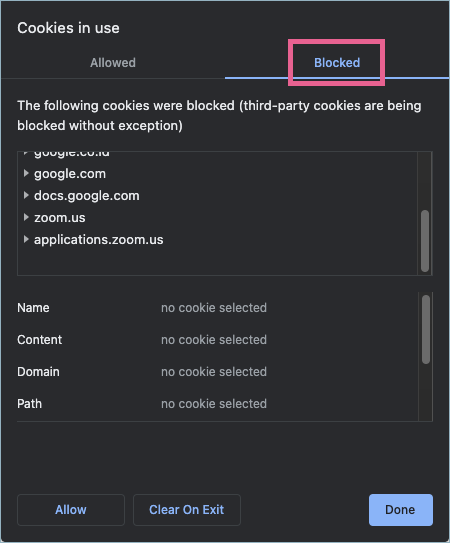 Select on applications.zoom.us and click Allow.
Reload the page.