5
How do I see my assessment results?
If Assessment reports are made available to learners by course facilitators, learners will be able to see the results by going to the My Progress page.
If assessment report is released to learners in your class, you will receive an email and a platform notification letting you know.
You can click on the notification to view the details of the assessment results. 
Alternatively, you can view the results through your progress page by following these steps:
Click the Your progress bar in the top-right corner of the page.
This will take you to your Progress page, where you will see all your Assessment reports. Click View Criteria for the assessment report you would like to see.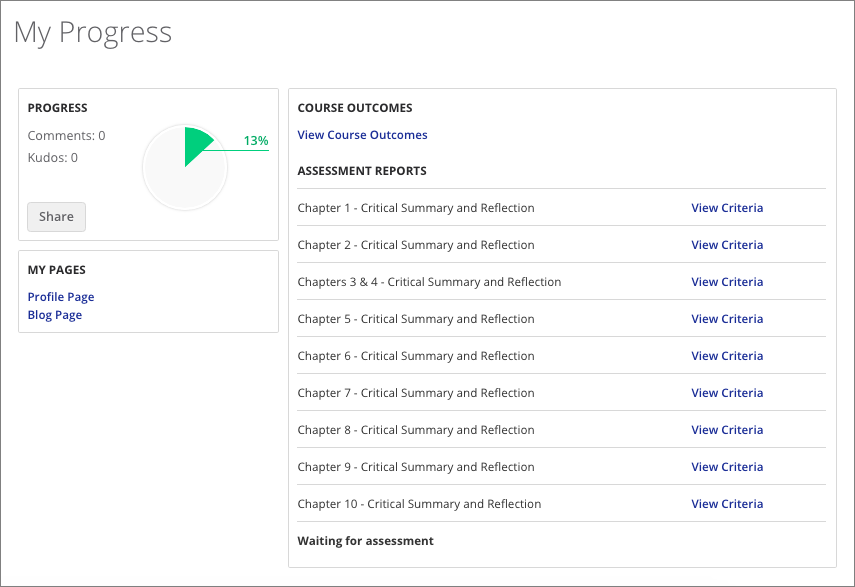 Here you will see your percentage grade for each assessment criteria as well as your total percentage once your report has been released.
Hi how do I upload my completed course certificate please

Good evening.

Earlier i had an issue of that i can find the " assess me now " button in my progress. We need to click onto the " assess me now " button so that our lecturer could givr marks to us. I reported it and they solved it. But a few hours later, before i clicked on the " assess me now " button, it disappear. So how could i click the button???

Below is the link to my course : https://www.openlearning.com/progress/?course=courses%2Frumah-anda&student=pravinthanabalan#

Hello, I have managed to complete all the module for HEMAH BICARA HEMAT BELANJA Course and managed to obtain the YOU ARE AWESOME in the my progress tab. However, I could not see my progress page to print my digital certificate

How do i see my assesment result? I can't verify my certificate although i completed the course.

why I'm click at progress there no icon to print certificated

I cannot open my progress bar

There is problem in chapter 2. Assessment when I am trying to open to compleate it didn't open please suggest the travel sooting because it is showing not completed .

How can I get my course certificate