1
How do I hyperlink text to become a file download?
OpenLearning's file widget can be used to upload and display files on your course pages. Occasionally you might want to provide the download link to these files again later on in the course. To do so, you may copy a download link from the chosen file widget like so:
Step 1
Go to the file widget you would like the link from. In Edit mode, click Setup and then right-click the filename.
Step 2
Choose Copy Link
Step 3
Now that you have the link copied, go to where you would like to hyperlink it. I want to place my link in this text widget so I'm going to click setup in order to edit its contents
Step 4
Highlight the text you wish to hyperlink and then click on the little chain link symbol
Step 5
A new menu will appear. Paste your link in the "URL" box and beneath it tick "This file is a download." Press OK when you're finished
Step 6
Now your text should be blue and hyperlinked! Click Done to save your changes
And there we have it!
Don't forget to delete the file widget when you're done :)
Method 2
If you know where the file is located within your computer or device you may also try this method (Note: This method only works with image files)
Step 1
In your Text widget, click on setup
Step 2
Highlight the word you'd like to hyperlink and click on the hyperlink text symbol in order to add the link.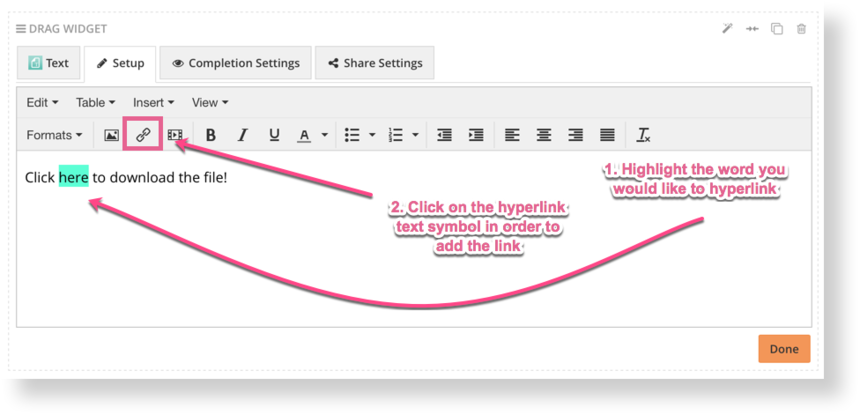 Step 3
Click on the search button next to the URL box and choose the file you would like to link. Don't forget to tick the This is a download box and click OK when you're finished.
Step 4
There you have it! Don't forget to click Done in order to save your changes.