5
How do I enrol in a course via email invite?
---
If you have an OpenLearning account and are invited via the email address associated with that account, you will automatically be enrolled in the course.
To access the course:
Click on the Courses link top left.
Choose the course you want to access either from the Recent Courses or All Courses list. Alternatively, find the course title by using the Search option.
---
If you don't have an OpenLearning account you will receive an email explaining that you are invited to the course and instructing you to create an account.
In the email, click on the hyperlinked text that reads Create an OpenLearning account.
You will be redirected to the sign-up page. 
Email: Make sure you use the same e-mail you were invited to.
Password: Choose a password of your choice.
Full name:  Enter your full name which will appear in the course and on your certificate. (if any)
 Tick the boxes to agree to our TOS and PP.
Tick the box to subscribe to our newsletter. (optional)
Complete the captcha challenge. 
Click the Get started button.
You will now be redirected to the course you were initially invited to and you may be greeted with a Welcome pop-up. (depending on the course setup)
Find the navigation menu on the left to start and discover the course content.
Happy Learning!
---
When signing up by following the link in your email address, you should not have to worry about confirming your account via a confirmation email. However, if you find you cannot access your course, try the following method:
Click on the user icon on the top-right corner of the screen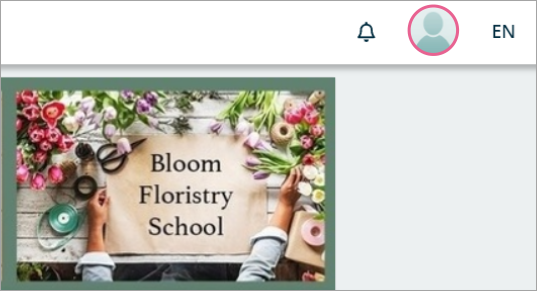 Click on Account Settings
Next to the Primary email address, check to see if your e-mail is Verified or Unverified
- Verified

- Unverified

If your email is unverified, click the Re-send verification email button.
Be sure to double-check your email address for any typos or you might not receive the email.
If your email address has a typo, simply click Change primary email address and correct the spelling before clicking Re-send verification email again.
Click the Re-send verification email button, and click OK when prompted.
Log into your email account and find the verification email.
It might take a couple of minutes to show up in your inbox. If you still can't find it, try checking your spam box as well.

Open up the email and click on the button that reads Verify Email Address.
You should be redirected back to OpenLearning.com.
Step 8
Now that your email is verified, follow the instructions above ie: click on the Courses tab to access your course list, find your course, and click on it.
Happy Learning!
---
If you have tried all the above steps yet you are still having issues, please contact us at support@openlearning.com