0
Exporting 'Learner Page Completion - Detailed' data
- is an export option that allows a Course Creator and/or Administrator(s) to export a more detailed set of Learner Page Completion data which is categorized or separated by Course Learner/Student(s) or per Course Module(s).
Module
Page Title
Page Path
Page ID
Listed in Progress Bar
Completed (Yes/No)
External Learner ID
User ID
Profile name
Completed Course pages
As a Course Creator/Administrator(s) one may want or need to keep a record of the 'Learner Page Completion - Detailed' data for reporting purposes, and so they can export these data on a regular basis by following the steps outlined below:
On the left-hand navigation menu of your course, go to Course Setup → Exports 
Click on New Export
Click on the 'What do you want to export?' drop down menu, and then select Learner Page Completion - Detailed
Then choose the Class you'd like to export the data for
Select the data columns you'd like included in your export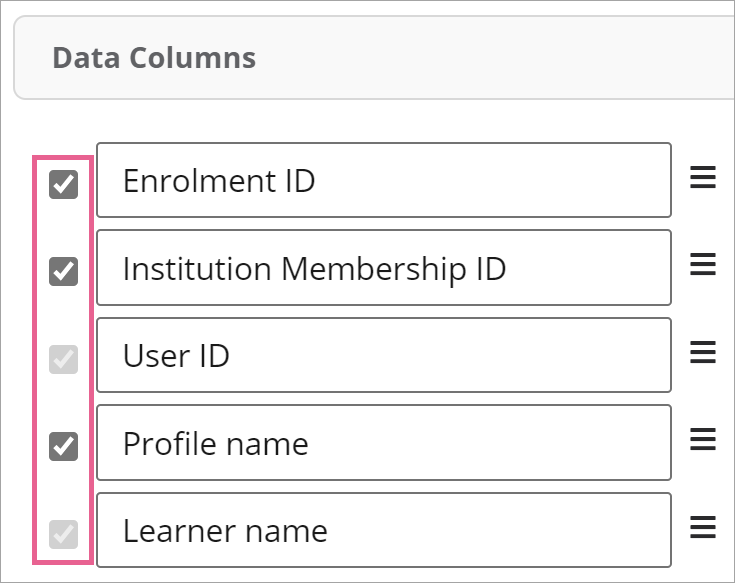 Choose a Name for your export, and then click on Save.
Note: Make sure that the bottom right icon shows 'Saved' (this should also Auto Save).
When you're ready, scroll back up to the top of the page and click Back to Export List at the top left corner.
Your newly created export should appear on this page now. Click Run Export to extract the results.
Once the export is done loading, click on Download and the CSV Zip file will download to your computer.
Note: Exports may take some time to run and download so please be patient!
Note:
The downloadable file will be a zipped folder which contains the exported 'Learner Page Completion - Overview' Data in .CSV file format grouped by the Course Module(s).
The zipped folder will also include the following:

a CSV per module in the course, with columns per page, and rows per learner (giving a matrix of completion for that module)
a CSV per user enrolment in the course, with rows per page and columns for page details (e.g. included in progress) and whether it has been completed by that user