10
7. How do I use page templates and learning design patterns?
Guide: Content & Activities - Contents
---
Page Templates are a new feature that was added in October 2020, to help course creators in creating pages that ensure course quality and maximise learning potential. The page templates utilise learning design patterns that are proven to engage and scaffold learning in line with social constructivist learning sciences. 
The page template function will allow you to choose from a number of layouts to assist in structuring your course page. The number of page templates will continue to be added to over time. 
To access Page Templates:
Step 1
Go to Course Setup > Content.
(Make sure your course has at least one module added. If not, type in a module name in the Add a new module text field at the bottom of the page and hit enter.)
Step 2
In the module of your choice, click on the Browse templates link inside the Add a page tile.
Step 3
A new pop up window will appear. This window has three tabs on its left-hand side.
Templates: Choose an existing template to structure your new page around.
Existing Pages: Choose from existing pages you have already created in order to add one to your module.
Blank Page: Create a blank new page with no existing material or template.
Be sure to select the Templates tab.
Step 4
Choose a template from the default list or use the dropdown at the top of the content area to filter templates by activity type.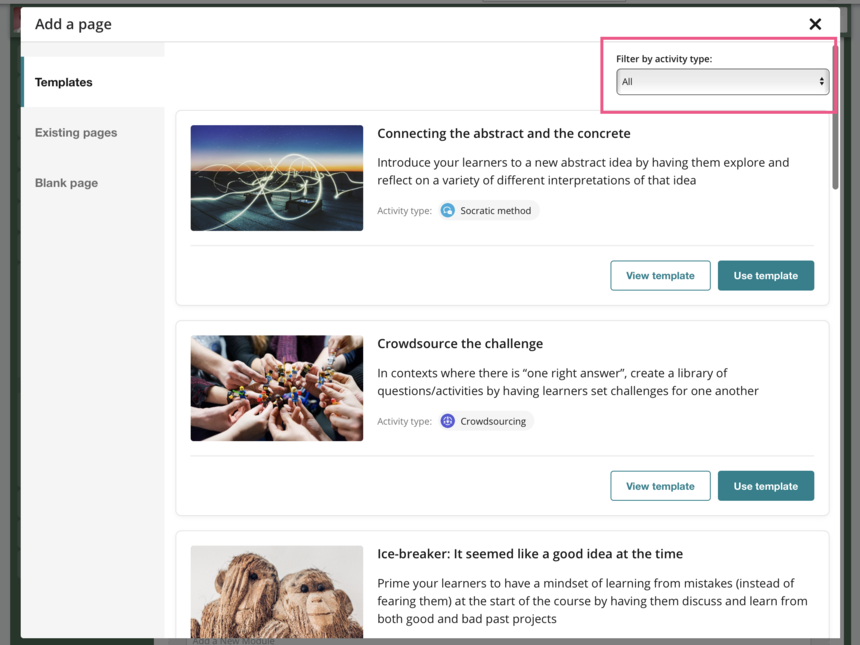 Step 5
To select the template right away, click Use template to proceed with adding it to your module. You can then go to the new page within your module and edit the template as needed for your course.
If you'd like to see a full preview of the template before adding it to your module, you can go on to the next step. If not, you can stop here.
Step 6
If you select View template, you will be able to see a preview of the template and immediately edit some sections of the page. These include: 
Page name
Page tags
Page path
After making your desired changes to the preview, click Save and add in order to add the template to your module. This will also take you back to the Course Setup > Content base screen.