0
Multi-factor authentication (MFA) - FAQ
---
What is multi-factor authentication? How do I set it up?
---
Log in as you normally would.
You will be prompted to enter a 6-digit code to confirm your identity.
Open your verification app on your mobile device and retrieve a new 6-digit code.
e.g.
Enter the 6-digit code in the "Confirm your identity" pop-up and click Continue.
You are now logged in.
---
If you don't have access to your authenticator app, you can use your 28-character Emergency Recovery Code to verify your identity. 
Click on Can't access authenticator? when we ask you to enter your 6-digit verification code.
Enter the 28-character emergency recovery key that you have saved previously.
Click Continue.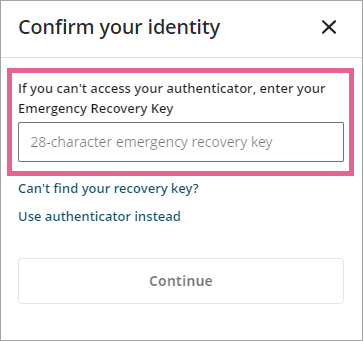 Once you've used the Emergency Recovery Key, it will expire and a new key will be created.  Save the new emergency recovery key in a secure location. You can also download it to your device.
---
Please refer to How do I create a new Emergency Recovery Key.
---
Please refer to I've lost my device with authenticator app installed. How do I set up MFA on my new device? and Get verification codes with Google Authenticator.
---
Please follow these steps to reset MFA.
Step 1
Go to www.openlearning.com and log in using your username and password.
Step 2
When you're asked to enter the verification code from your app, click on Can't access authenticator?
Step 3
Next, choose Can't find recovery key?
Step 4
Click on Reset multi-factor authentication.
Step 5
An email will be sent to you to confirm your identity. Please note the process may take 24-48 hours. You will receive this email as confirmation that your request to reset MFA has been received:
Step 6
Within 24-48 hours later, you will receive an email that will look like this. If you haven't received the email, please check all your email folders, including Spam and Trash.
Step 7
Click on the link in the email and then enter your password to confirm your identity.
This completes the reset MFA process and the next time you log in, you won't have to enter the 6-digit code.
---
Please contact the Customer Success team for further assistance.