1
How do I set up automatic grading assessment?
Preparation
In order to design assessments, you must first have set up the correct permissions in roles. Learn more about roles
You must also have specified your course outcomes. Learn more about course outcomes
Assessment for Quizzes
To reduce repetitive assessments, all quiz related activities (such as Multiple Choice Questions, Crossword Puzzle, Category Matching, Fill in the Blanks, and Matching Answers) can now be auto-marked.
Once you have a quiz ready, follow these steps to set up automatic assessments:
Step 1
In your lefthand navigation menu, go to Assessment > Report Design
Step 2 
Select New Examination Report then click Add Report.
 Step 3
A new report appears. Click on Edit to add in relevant quiz pages.
Step 4
Name your assessment by typing a title under Report Title
Step 5
Where it says Add a quiz page type in the name of the page with the quiz that you wish to auto-assess. Click on Save to save the report. 
Important Tip: Make sure you have a Submit button on the Quiz page so that the Automatic Assessment runs correctly. 
Don't forget to click Save.      
Step 6
To run the automatic grading, go to Assessment > Assess Students. Find the report you have just set up and click the Play button located next to the title. Click Run to finalise.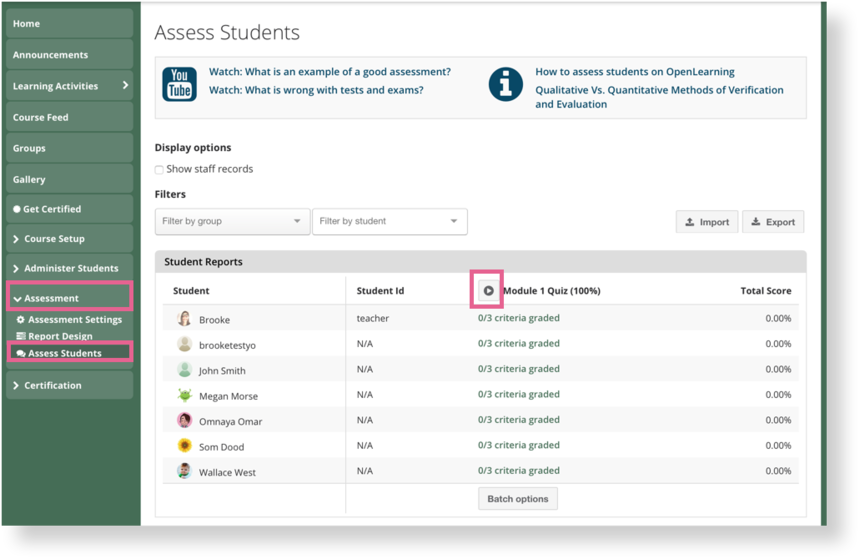 Step 7
Viewing Student Answers
You can click into a student's results to see a more detailed breakdown of their score.
Click on the quiz page from within this view to see their answers in context.
It is possible to make adjustments to the total score. You may wish to use this for special consideration cases or late adjustments.