2
How do I set up automatic grading assessment? (quiz assessment)
Please note:
In order to design assessments, you must first have set up the correct permissions in roles. Learn more about roles
You must also have specified your course outcomes. Learn more about course outcomes
Optional: you may choose to give the learners the freedom to decide when they would like to be assessed by choosing Assessment settings > Assessment process > Allow students to decide when they are ready to be assessed.
---
 To learn how to create an assessment report, watch this video or follow the step-by-step instructions below.
The section on Automatic grading starts at 5 min 40sec.
---
How do I set up a quiz assessment report?
To reduce repetitive assessments, all quiz related activities (such as Multiple Choice Questions, Crossword Puzzle, Category Matching, Fill in the Blanks, and Matching Answers) can now be auto-marked.
Once you have a quiz ready, follow these steps to set up automatic assessments:
Step 1
In your lefthand navigation menu, go to Assessment > Report Design
Step 2 
Select New Examination Report then click Add Report.
 Step 3
A new report appears. Click on Edit to add in relevant quiz pages.
Step 4
Name your assessment by typing a title under Report Title
Step 5
Where it says Add a quiz page type in the name of the page with the quiz that you wish to auto-assess. Click on Save to save the report. 
Important Tip: Make sure you have a Submit button on the Quiz page so that the Automatic Assessment runs correctly. 
Don't forget to click Save.      
Step 6
To run the automatic grading, go to Assessment > Assess Students. Find the report you have just set up and click the Play button located next to the title. Click Run to finalise.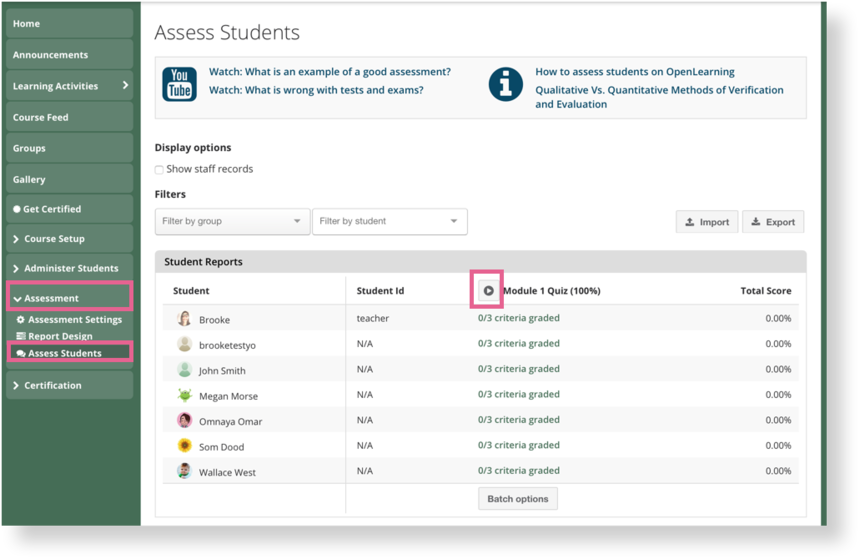 Step 7
Viewing Learner Answers
You can click into a learner's results to see a more detailed breakdown of their score.
Click on the quiz page from within this view to see their answers in context.
It is possible to make adjustments to the total score. You may wish to use this for special consideration cases or late adjustments. 
How do I view learner answers to assessments?
  Once you have created an assessment report, you may want to use the same report in other classes within the course. You can transfer a report by going to the new class > Assessments > Report design > Add a report and choose one of the reports that you created in the previous class.
How can I randomise presentation of the Multiple Choice widget answers? The first answer must be the correct one when setting up the widget, but I'd like random presentation of the possible answers to my students.

Hello! I've noticed that if I use the submit button at the bottom of the page, I have more settings options. Also, all checkboxes are replaced by the 'submit' button which makes it easier to complete the exam. It might be great to add this to the article as it is a useful tool, I think :)

Hello again! I've noticed the 'visible' button on one of the screenshots - what is this button for?

How do you work for grades in an assignment that uploads files?

how can I assess a group task?