0
How do I set up Accredible credentials in my course?
---
Before we begin, please make sure Accredible is enabled for your Institution and that you have completed the setup for Certificate and/or Badge designs from Accredible.
You can learn more from our help articles here and here.
---
To set up Accredible credentials in your course you will need to have course admin permissions.
Go to your course > Credentials > Setup > Credential Type and tick Digital Certificate or Badge (via Accredible). 
Further within the Credential Setup page, enter the following information:
Display Name - This is the name of the course or achievement the credential is issued for.
Description - What your learners need to do to earn this credential.
Website -  The recipient/viewer of the credential will be redirected here from the credential page. This appears as the Issuer Website, shown in the screenshot below.
Please note that the website indicated on this field cannot be changed either from the course or from the Accredible dashboard as it is currently hardcoded to the portal where the certificate is awarded, but you can add another website and it will appear as the Course Page from the recipient's end.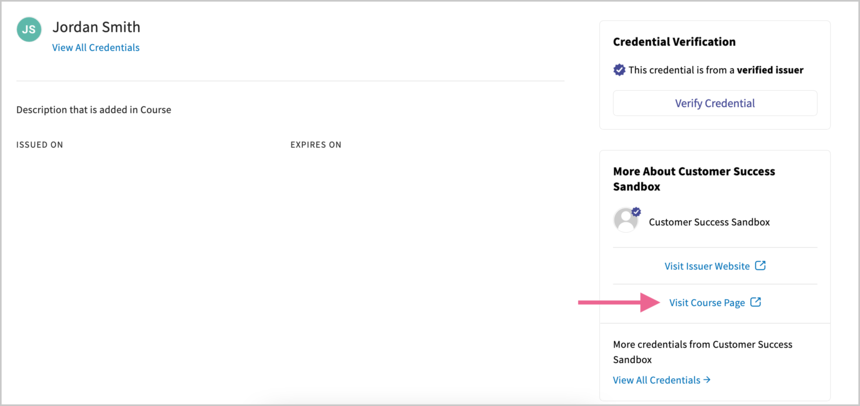 To add this, you'll need to go to your Accredible dashboard. From the dashboard, go to Groups > choose a credential > Visibility > tick the Course Website > fill in the field. 
Price - Credentials can either be free or paid. If it is a paid credential, you will need to set the price and currency that the learner will pay before being issued their credential.
Automatically issue credential on completion of the course -  If you select No this will be manual, requiring educators to issue a credential manually. If you select Yes, the credential will be automatically issued upon the completion of the course. 
Certification awarded message - Learners who earn this credential will see this message on their course Progress page.
Click the Save button. 
Next, go to Credentials > Appearance and select an Accredible certificate or badge, then click on Use Design button.

Add in Teacher signature, Teacher name, and Teacher position. Scroll down a bit then click the Save button placed on the bottom right.
---
Issuing Accredible credentials (both certificate and badges) can be done either automatically or manually. It is the same process as issuing an OpenLearning credential which you can find out more about here. 
Please refer to the following help guides from Accredible.
https://help.accredible.com/embed-your-credential-full-credential-page
https://help.accredible.com/how-to-share-your-credential
---
If your course is part of the OpenCreds framework, please refer to this article.