0
How do I embed a Google form into my course?
These instructions explain how to create a survey and embed that survey into an OpenLearning course using Google Forms. They also explain how to make the response data viewable for learners in an OpenLearning course.
Please note: In order to make the response data viewable, the survey creator will need to answer the survey questions one time. If this will compromise the response data, the instructions conclude with a way to remove that data.
Creating the survey and embedding it in OpenLearning
Step 1
Go to Google Forms and start a new blank form. 
Step 2
Select Settings. 
Step 3
Then toggle on View results summary.
Step 4
Create your form however you like.
Step 5
Select Send form.
Then select the link icon.
Click the Copy button to copy the link. 
Step 6
Go to Integration widgets and click on the iFrame widget.
Click on the Setup tab and  choose URL as the upload type.
Step 7
 
Paste the link you copied in your chosen OpenLearning course page.
Note: You may get the error Unable to validate, you can just ignore this and click Save.
---
Making the response data viewable for learners
Step 1
Visit the link you copied in step 4 above via an Incognito/Private window.
Step 2
Fill out the survey and select Submit.
Step 3
After completing the survey you should see two links: See previous responses and Submit another response. 
Select See previous responses.
Step 4
Copy that link and share it in your OpenLearning course using the Text widget
---
Remove survey creator response 
Step 1
Return to the Google Form you created in edit mode and select Responses.
Step 2
Select the green and white sheets icon.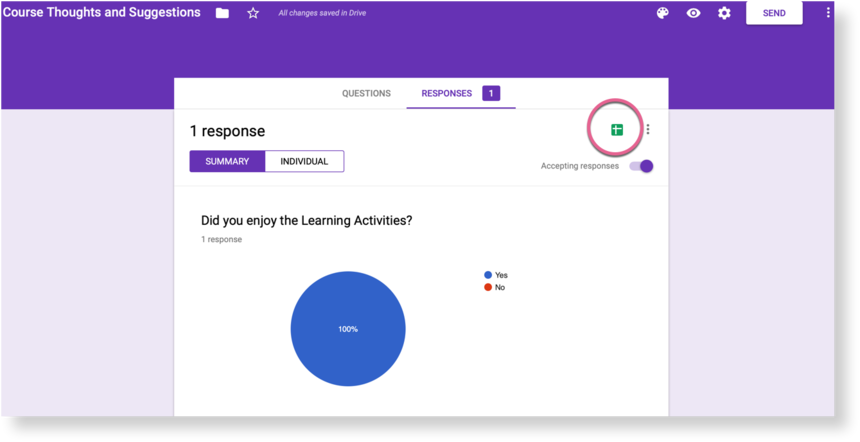 Step 3
A prompt will appear asking you to select a response destination. Choose the option to create a new spreadsheet.
Step 4
Click the sheets icon again to be redirected to your responses. In the sheet, find the survey creator response. It will likely be the only response. Delete that row.
The survey results will now be available to respondents without the survey creator's response.