How do I copy a course?
Need multiple versions of a similar course

Need to create a new version of the course and change up the content
Instead of creating the course again from scratch, it can now simply be copied, and the content can be edited from within the new course.
If you would like separate cohorts of students to go through a course together but do not need to change any course content, creating a new class within the same course would be a better alternative to a course copy.
---
Go to Course Setup > Advanced and scroll down to the section titled Course Copy
Next to Course Name, type the name you would like your new course to have. Once you have done this, the Course URL section will fill itself in. 
Note: Course URLs cannot be changed once created.
If you would like this course to be part of an institution, choose one from the Institutions dropdown menu.
Note: You must be an admin within the institution to do this.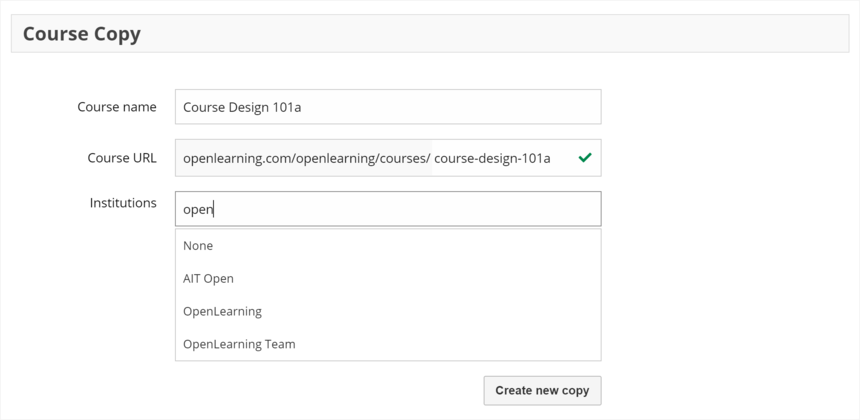 Click Create a New Copy and wait.
When a copy is successfully created, you will see a success pop-up with a button to go to the new course copy. You can also access the new copy from your course list.
If there is an error pop-up instead, please check to make sure you've entered the correct information and have the right permissions. If you've already tried everything and the error still occurs, please email us at support@openlearning.com for assistance.
Please note that courses created via course copy will not automatically be listed in the OpenLearning Marketplace. If you would like this course listed in the Marketplace, you will need to submit it for review via Step 3 of the Setup Wizard.
---
Outcomes 

General 

Landing page 

Appearance 

Content 

Module sets

Modules

Pages

Resources

Widget settings (completion settings, share settings)

Group Types ONLY

Course Setup > Advanced settings
Course Setup

Community settings

Roles settings

Certification

Assessment

Enrolment questions

Comment thread (placeholder text)

Groups within each Group Types and Class