6
5. Keeping learning on track
Guide: Running Your Course - Contents
---
View learner progress: See how far learners are progressing through the course by going to Administer Learners > Learners.
Post announcements: Creating announcements will send an email and a notification to all learners in the cohort. This is great for staying in touch with learners on a regular basis, reminding them of approaching deadlines as well as sharing upcoming topics in the course.
Enable Weekly digest email in your course: Learner digests are weekly emails to all learners in a course to show them where they have left off in the course and what pages are next. This is a useful tool for keeping learners informed and engaged in the course. 
Sending a reminder - Facilitators can also send a pre-defined reminder message to selected learners. Reminder messages are great for nudging learners who might not have made any progress for a while.
Analytics: Find more detailed information on learner's engagement in your course under Administer Learners > Analytics, such as, how many comments have been made on each page, which page has the most activity or the average time spent on each page. You can also filter the data to Pages, Learners or Comments.
Moderating learners' posts: If necessary, you can also report inappropriate comments and flag spoilers. Flagging comments as spoilers hides the comment and gives learners the option to reveal it manually while reporting comments as inappropriate or disliking comments will hide the comment from the community. You can find these options under the drop-down menu located in the top right-hand corner of any comment.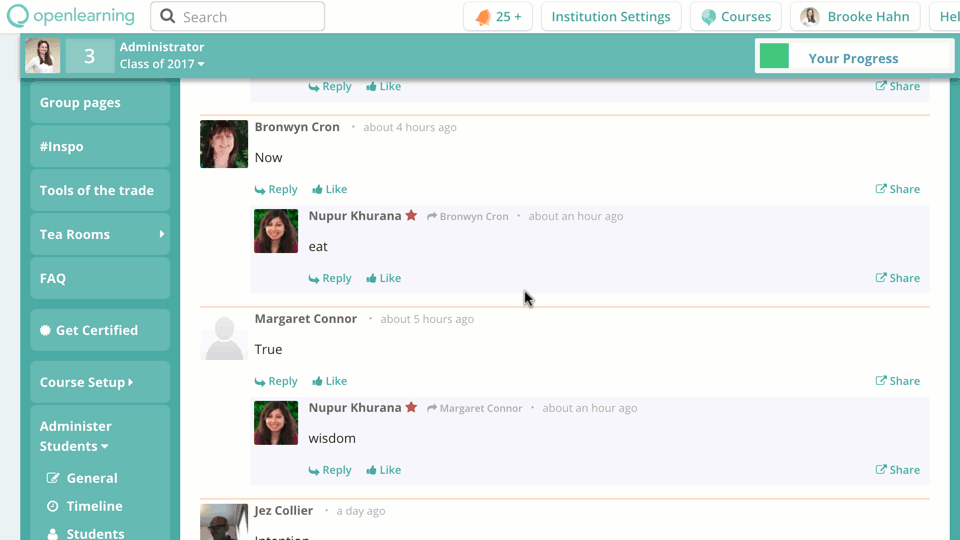 Setting up a chatroom or video conferences for occasional check-ins
You may want to set up an occasional online get-together with your learners via a chatroom or video conference. To set this up, you can use the Chatroom widget, MS Teams widget or integrate Zoom.
---
Letting the community take off
As the community becomes more active, self-sufficient and self-regulating, you can now enjoy seeing them take learning into their own hands. You can still be on hand to provide support when necessary or even when you'd like to, to maintain the rapport and the connections you've made with learners throughout the course. 
---
How to
Learn more about the learner's progress
How do I send an announcement?
How do I send out a weekly digest and (individual) reminders?
What are OL Analytics and how do I use them?
Moderating inappropriate posts or comments
---