2
OpenLearning AI Assistant - Activity Generator
---
We have implemented AI Assistant on the platform to assist with the efficiency of course content creation.  
Whether looking to create one activity or piece of content or seeking help to design an entire course, the OpenLearning AI Assistant gives guidance, and does some automated building, to help the course creator create what they are looking for.
The AI Assistant Activity Generator helps you generate a type of activity that would best suit your learners.
 This feature is currently available to a select few institution partners only.
Step 1
On any of the pages within a module, click the Suggest a learning activity button.
Step 2
In the Activity builder tab, select from the different options below.
Create an activity
Choose from the suggested learning outcomes, or search for one
Pick an activity style from its drop-down list
Pick a tone of the activity
Moreover, you may also opt to add a further description of the activity you are building.
Step 3
Once you're set to generate an activity suggestion, click the Generate activity button. (In case you suddenly change your mind, you can click Cancel).
Step 4 
Review the suggested activity, then decide whether to discard, refine, or keep. Click its corresponding button located at the foot of the page.
 When you are in AI assist mode, the page cannot be edited until you choose to discard, refine, or keep the page.

Step 5
If you opt to refine the activity, fill in more details in this text box.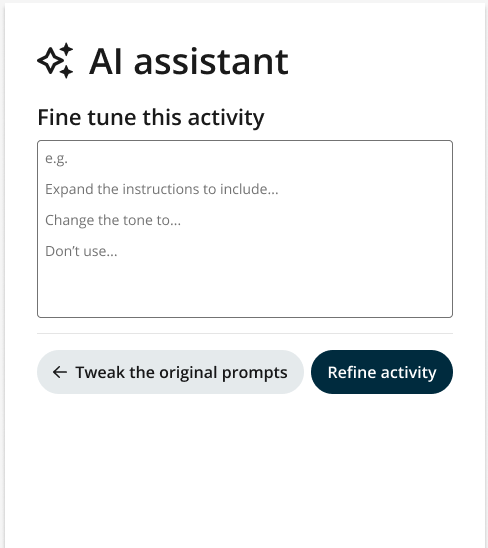 ---
You may reach out to our Head of Product: Sharmi at sharmi@openlearning.com if you wish to further discuss your feedback.