1
The OpenLearning top bar icons
---
The OpenLearning top bar is an important piece of the platform as it allows users to quickly navigate to courses, see their notifications, go into account settings, and so much more. It is also important for learners to know that they are studying via the OpenLearning platform in the instance that they need technical assistance from the OpenLearning Customer Success Team.
The top bar is a user interface element that contains links to other sections of the platform. It is displayed on most pages within the OpenLearning platform. 
A top bar is displayed as a horizontal list of links at the top of each page. On the left side, there is the OpenLearning header/logo. On the right side, there is the Search field, the Platform language icon,  the Bell icon, the Globe icon and Profile icon.
---
The Search field allows users to search for:
Courses that are listed in our marketplace

Other users in the platform who have set up the profiles to be visible to anyone on OpenLearning
Choose the language of the platform. (under development)
The bell icon lists the most recent/unread notifications which include the latest comments to course pages, course announcements, credentials being issued etc.
The globe icon opens a drop-down menu that includes:
Search field: Search among the courses you're enrolled in. Very useful if you're enrolled in many courses!
List of all enrolled courses and institutions: Scroll down the list to find the course you need.
Manage my courses: Click here to leave a class or a course.
Find new courses: Click here to enter our Course Marketplace.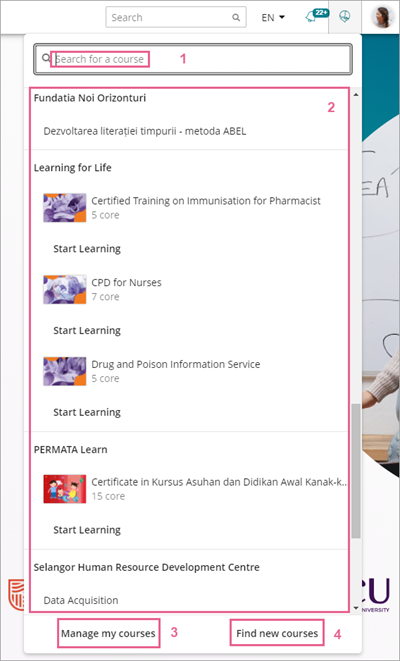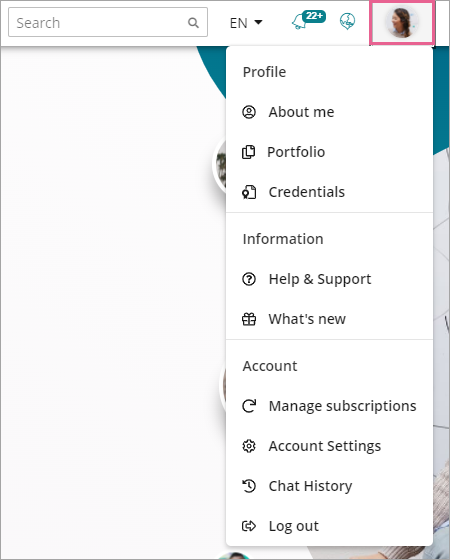 The User drop-down button allows users to access the following pages:
Profile
Information
Account
Manage subscriptions (for course administrators and facilitators only)
Account settings
Chat History
Log out
---
Related: